ATOS™ for Preventive Maintenance
Is a powerful engine with set of widgets and map layers for ATOS™ for displaying and monitoring data incoming from different (any) measurement systems along with notifications, recommendations and data analysis.
ATOS™ maintenance system implements:
Input measurement interfaces – interfaces to the equipment from automated or manual measurements:

Photometric,
Identification – RFID, GPS correlation,
Screw torque,
Visual inspection (Camera),
GRF and runway inspection;

Airport systems interfaces – interfaces to various systems available on the airport;
Data pre-processing – gathering of data from the interfaces and preparing for analysis and acquisition;
Data bases – for measurement and data acquisition;
Data processing:

The current data is then processed for displaying the current state of infrastructure;
Based on current measurements and measurement cycles, maintenance information and recommendations are prepared;
Based on historical measurement and other data, correlations are formed to establish best possible predictive maintenance.

Available data can be accessed/viewed via:

Web application that consolidated all information into one intuitive interface along with additional features like:

time-slot finding and planning for maintenance,
historical measurements,
report generation,
maintenance procedures
…

Mobile application that adds to the web app feature navigation options esp. to places of interest and maintenance hot-spots;
Interfaces to external systems.
Web App View
The web application allows for custom and flexible widget and map layers display according to the needed requirements and preferences. Day/night color schemes, widget placement, size and location can be edited by user. Any detected incident is shown on map and detailed views can be directly shown.
Map Layers
The map allow to see all measured parts of the system e.g. all AGL with placement and details. The map can be filtered to show all information, statuses or warnings and alerts.
Any kind of information that triggers a warning or alert can also be shown on the main map screen, along with details and recommendations.
AGL inspection and measurement
A list of all AGL groups, individual lights and statuses.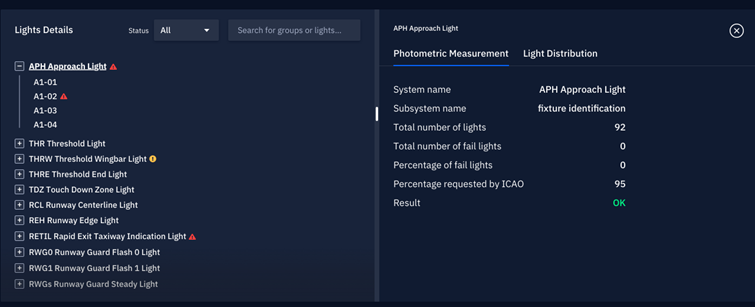 For each light we can find:
General info;
Data sheets, files, manuals and other required documentation;
A visual inspection (most recent photographs in both on and off states);
Light distribution (isocandela diagrams);
Photometric measurement summary;
Torque measurements;
Recommendations;
Any other used measurement equipment results.
ARAMMIS™
Autonomous Remote Airport Measurement and Maintenance Information System
ARAMMIS™, as the acronym states, is an innovative automated mobile system for preventive maintenance of airfield infrastructure in the form of a mobile vehicle. The system will enable autonomous AGL parameters measurements and life cycle management as to allow round-the-clock compliance with international and local standards.
ARAMMIS™ is a system that can move autonomously on airfields, measure parameters of AGL installations and perform infrastructure inspection. It gives information on AGL performance and maintenance requirements.
ARAMMIS™ is the system of the future that can supersede standard measurement techniques in quality, repeatability, reliability, and effectivity.
ARAMMIS™ can operate as a stand-alone system for generating reports and is fully compliant with ATOS™ preventive maintenance modules.
Key features of the robotic module:
Autonomous Measurement – the vehicle performs the chosen measurements autonomously without the need for operator assistance eliminating possible human error and the need for qualified personnel for each type of measurement. The operator – inside the vehicle – can take control of the vehicle any moment and/or enable emergency procedures.
Flexible measurement – the vehicle allows choosing various scenarios prepared for the current airfield, the scenarios can be paused, stopped, continued and repeated upon demand.
Different measurement types – the system integrates different measurement and maintenance devices including AGL photometric measurements, screw torque analysis, visual inspection, screw tightening and cleaning.
Easy upgrade – the system in terms of hardware (mobile platform) as well as software is prepared as a universal solution allowing integration of any measurement device or maintenance module into the system. Planned upgrades include (but not limited to):

Vertical sign measurements
PAPI angle assessment
Runway pavement and skid assessment
GRF integration
…

Custom vehicle preparation – the system can be prepared and installed on larger vehicles to support heavy modules and additional features.
Compliance with ICAO, EASA/FAA and local standards and regulations in terms of installed devices, measurements and scenarios.